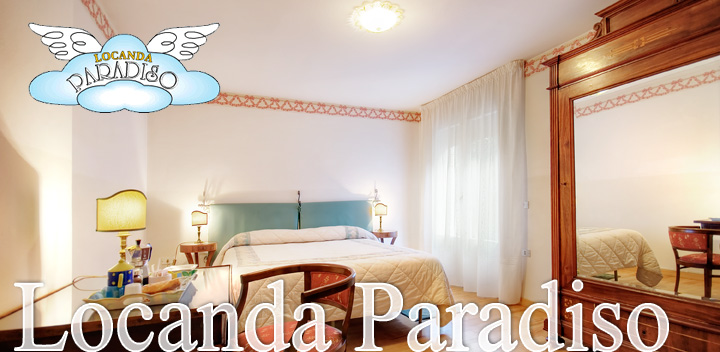 La Locanda Paradiso dispone di camere eleganti e confortevoli per un piacevole soggiorno.

Vicina all'ospedale, alla San Pier Damiano, al centro storico, al Centro Fieristico di Faenza e al parco Bucci (per gli amanti del footing). Facilmente raggiungibile dalla via Emilia a dalla stazione. Il prezzo contenuto e l'ambiente accogliente permettono a chiunque di soggiornare in questa bella città che offre piacevoli sorprese sia in campo culinario e artistico, in quanto il museo delle ceramiche di faenza è famoso in tutto il mondo. Da ogni camera è possibile connettersi ad internet grazie ad un sistema senza fili Wireless Access Point ed è dotata di bagno, aria condizionata e impianto TV. Sono disponibili biciclette per i clienti che vogliamo visitare la città. Accettiamo volentieri i cani; Si accettano pagamenti con tutte le carte di credito.

Locanda Paradiso provides a very pleasant stay with its comfortable and elegant rooms.

The Locanda is located in close proximity to the hospital, the historical city centre, Faenza Fair Centre and the Bucci Park (for those who enjoy jogging). It is easily accessible from the Via Emilia and from the railway station as well. Thanks to its competitive prices and its cosy comfortable atmosphere, Locanda Paradiso is the ideal location to enjoy this enchanting town with its gastronomic and most of all artistic treasures, like the worldwide famous International Ceramic Museum. All rooms are equipped with private bath, air conditioning, TV and wireless internet connection. We also provide bicycles for our guests, who would like to visit the town. Dogs are allowed. All credit cards are accepted.
Locanda Paradiso bietet elegante und gemütliche Zimmer für einen angenehmen Aufenthalt.

Locanda Paradiso liegt günstig in der Nähe des Krankenhauses, des historischen Stadtzentrums und des Bucci Parks (für die tägliche Jogging-Runde). Es ist leicht erreichbar sowohl von der Via Emilia als auch vom Hauptbahnhof. Dank der günstigen Preise und ihrer gastfreundlichen Atmosphäre bietet die Locanda einen angenehmen Aufenthalt in dieser wunderschönen Stadt, die voller Überraschungen auf den Gebieten der Gastronomie und der Kunst steckt: sie ist nämlich weltweit berühmt für ihr internationales Keramikmuseum. Alle Zimmer sind mit privatem Badezimmer, Klimaanlage, TV und Wireless Internet-Anschluss ausgestattet. Wir stellen auch Fahrräder zu Verfügung für diejenigen, die die Stadt besuchen möchten. Hunde sind erlaubt. Wir akzeptieren alle Kreditkarten.
Se però vuoi alloggiare in Collina...

If you want to stay in the hills…
Wenn Sie lieber in den Hügeln unterkommen möchten…

LOCANDA DELLA FORTUNA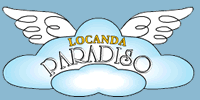 Via Gallo Marcucci, 49
Faenza (Ravenna) Italy
p.i.: 01376820393

email: locandaparadiso@tin.it
Phone.: +39 0546 23400
Fax: +39 0546 694413